"Group meditations sustain the yogi's spiritual enthusiasm, inspiring him to meditate when he might otherwise neglect his devotions, encouraging him to spiritualize life's duties when he might otherwise perform them heedless of God, the real Doer."

—Paramahansa Yogananda
Group Meditation and Ashram Timings
Day

Group Meditation Timings

Sunday*

4 p.m. to 7:30 p.m. (evening)

Monday, Tuesday, Wednesday, Friday, Saturday

7 a.m. to 8 a.m. (morning)

6 p.m to 7:30 p.m. (evening)

Thursday

7 a.m to 8 a.m. (morning)

6 p.m. to 9 p.m. (evening)

Guruji's room

9:30 a.m. to 4:30 p.m. (on weekdays)

9:30 a.m. to 1:30 p.m. (on Sunday)

The meditation hall remains open on all days

5 a.m. to 9 p.m.

Office Timings

9:30 a.m. to 4:30 p.m.
* Every Sunday satsanga at Yogoda Satsanga Sakha Math, Ranchi (from 10:30 a.m. to 12:00 noon) includes chanting, group meditation and a spiritual discourse conducted by one of the YSS sannyasis.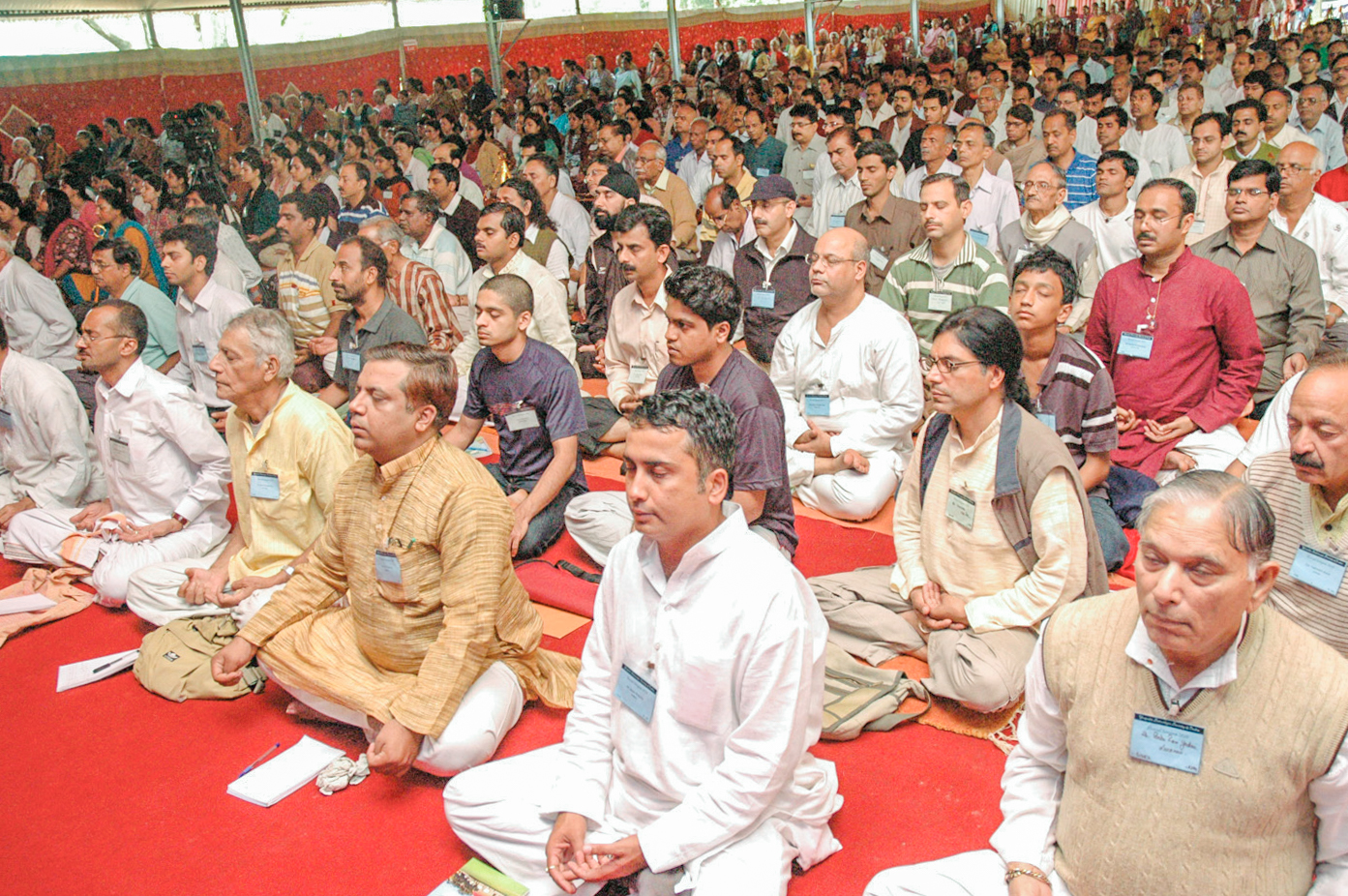 Group Meditation Guidelines
For a Group Meditation to be successful, we should ask ourselves — "What can I do to avoid distracting others?"
Adjust your meditation stand's height before meditation begins and avoid bringing noise-creating items such as plastic into the hall.
Please go to the restroom during chanting periods only. Gentle stretching can also be done during chanting.
Refrain from talking to anyone or making sounds during meditation. Kriya should be practised silently so that it is inaudible to others.
Avoid wearing strong perfumes.
Before Meditation:
Arrive on time. If you come late, please sit in the back of the Dhyana Mandir.
Turn off all electronic devices.
If you have a cough, cold, or any condition that creates noise or restlessness, please meditate at home until your condition improves. Devotees staying in the ashram may meditate in their rooms or in the Smriti Mandir.
Wear clothes made of soft fabrics that don't make noise. Lady devotees should take care that their bangles do not make sounds.
During Meditation:
Remain still and quiet during periods of silence.
If you need to leave, please do so during the chanting periods.
If you are not staying for the entire meditation, please sit in the back of the Mandir.
Consideration for others is an important part of one's spiritual growth. Thank you for being considerate.