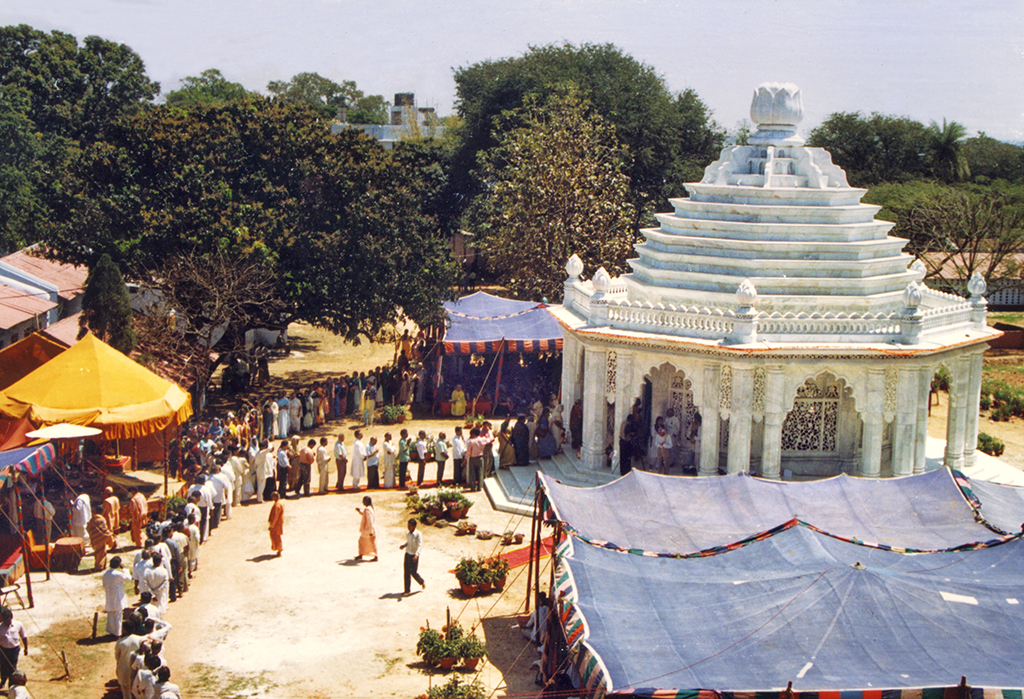 The Smriti Mandir stands on the sacred spot where Yoganandaji, in 1920, had the vision of his American disciples which heralded his worldwide mission of spreading the universal teachings of Kriya Yoga to people of all religions, creeds, and nationalities.
In the Autobiography of a Yogi, perennial best-selling spiritual classic authored by Paramahansa Yogananda, he recalls his experience in a store room of his newly started Brahmacharya Vidyalaya in Ranchi:
"America! Surely these people are Americans!" This was my thought as a panoramic vision of Western faces passed before my inward view.

Immersed in meditation, I was sitting behind some dusty boxes in the storeroom of the Ranchi school. A private spot was difficult to find during those busy years with the youngsters!

The vision continued; a vast multitude, gazing at me intently, swept actorlike across the stage of consciousness.

The storeroom door opened; as usual, one of the young lads had discovered my hiding place.

"Come here, Bimal," I cried gaily. "I have news for you: the Lord is calling me to America!"
In the 1950's, a small Dhyana Mandir was built on the same location to commemorate this vision which led Guruji to the West on his worldwide mission. This temple went through a modification in the 1960's and another one in 1980's.
Sri Daya Mataji wanted a special temple to be built on this sacred site as a fitting tribute to Yoganandaji on his 100th birth anniversary.
The foundation stone of the Smriti Mandir was laid by Swami Bhavananda Giri, former YSS Dharmacharya, on Guruji's birthday in 1993. A team of experienced workers from Rajasthan were called for this monumental project; their job was to carve the dome, and pillars from marble stones. Another team specializing in inlay work was entrusted with creating the altar and the lotuses.
On March 22, 1995, the 78th anniversary of the founding of Yogoda Satsanga Society of India (YSS), a beautiful Smriti Mandir in white marble was dedicated at the Yogoda Satsanga Sakha Math, Ranchi in memory of the Great Guru. Over 1200 devotees and guests watched Swami Anandamoy Giri, one of the direct disciples of Gurudeva, open the Smriti Mandir to all for personal meditations. A week-long programme, Smriti Mandir Samarpan Sangam, was held to mark this very special event.
Since its dedication in 1995, the Smriti Mandir has attracted the attention of one and all who come to visit Yogoda Satsanga Sakha Math, Ranchi through the years, both for its spiritual significance and architectural beauty.